Skateboard Tuition For Adults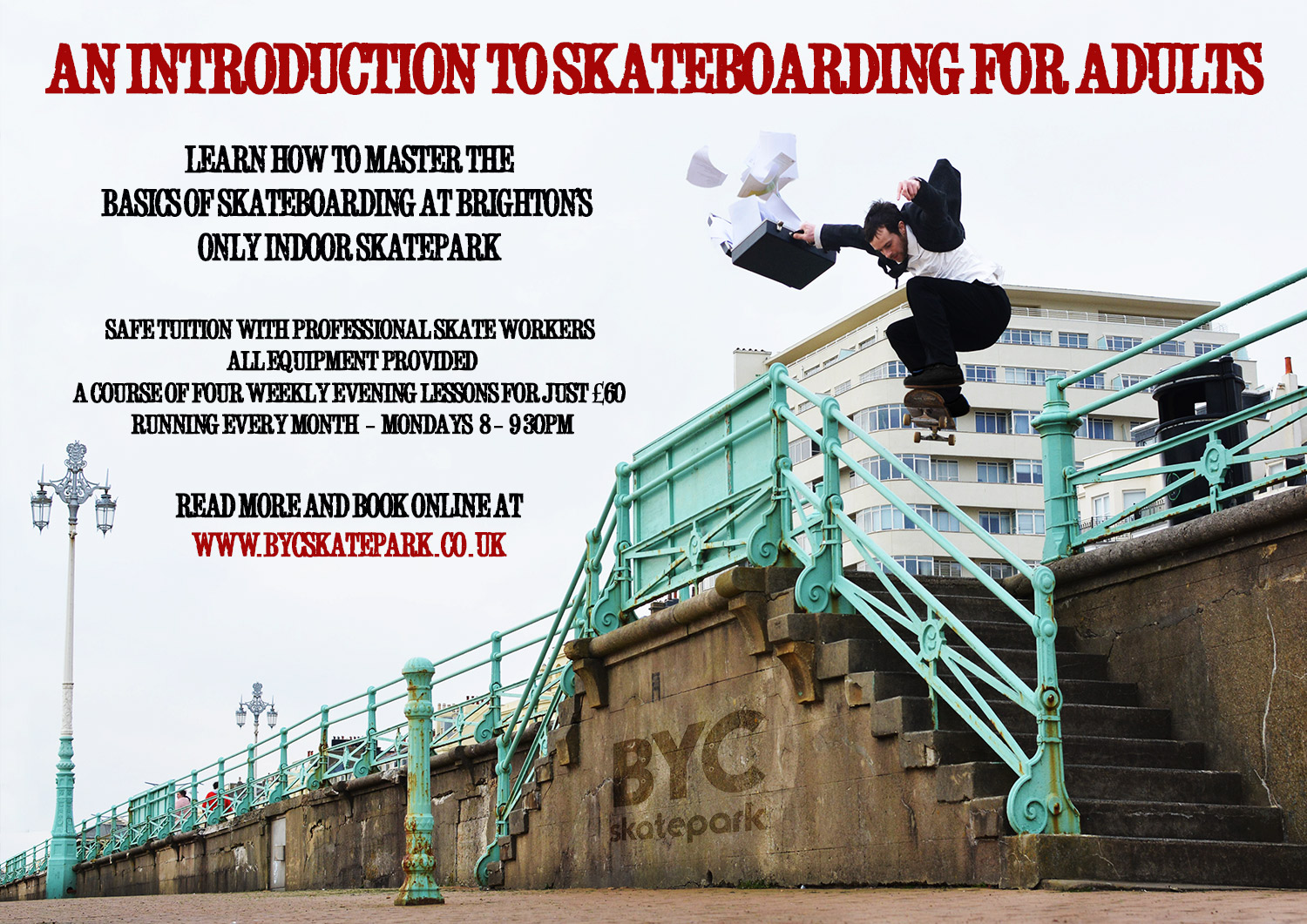 Four week courses, every month on Mondays from 8 – 9:30pm
Our skate courses for adults are a regular fixture here at BYC. They're an ideal experience for complete newcomers and those at beginner level who are looking for some instruction. The park will be closed to the public and three instructors will be on hand to teach, give advice and offer support. However far you want to take it, we can help you! Read more below.
Next Courses
All of our lessons are currently on hold while we wait for a moveout date for the rebuild of BYC planned to take place. Once out, we will be relocating to a temporary space while the new facility is being built and will resume our lessons. We currently do not have a timeframe on when this will be. The skatepark remains open to the public every day until further notice. If you would like to be contacted once we have more information on when and where our next lessons will be able to take place, please submit your email address below and we'll be in touch.
A More Detailed Look…
The course is a perfect place for anyone who isn't sure where to start when it comes to picking up a board for the first time, or the first time in a while. If you'd love to give skateboarding a go but aren't sure about taking that first step in to the park, this is for you. Any equipment you need is here to use.
The course takes a flexible approach, helping people learn as much as they want, no matter their initial ability. Each session has three skate coaches all there to help individually. If you have never skated before we can show you the ropes and get you flying around and using the ramps in no time. If you want to learn some specific things we'll work on that too. There'll also be plenty of suggestions of what to try next and how to improve what you're doing.
We'll also spend some time learning skatepark use and etiquette, to help you gain confidence using public parks and skating with others.
There is no set age limit on the courses. While they target and most often include those aged 18+, are happy to take people younger on board and have done in the past. Please give us an email to discuss beforehand.
Most people who join us aren't sure what to expect, but all you need to do is take that step through the door.
Our schedule, booking, and refund policy

Further schedule and booking details
• Places are on a first come first serve basis. We do not take any bookings before they appear online and do not hold waiting lists.
• These courses are in high demand and often sell out fast. If there are no spaces visible on this page then there are none available. Each registration must be completed in full individually and we cannot guarantee your being able to book for more than one person successfully.
Refund Policy
• We will issue a full refund to the account debited, if contact is made by phone or email with a request to cancel the space at least 7 days before the start date. If notice is less than 7 days, we will issue a refund of half of the course cost. This is to cover potential loss of earnings from your space not being used. Requests for a refund on or after the date of the first lesson will not be honoured. We will request account details to arrange a bank transfer for any granted refunds.
• BYC holds no responsibility for any lessons that aren't attended and will not issue partial refunds, discounts on future bookings, or free lessons on a future course, to make up for missed lessons.
Data Usage
Personal information entered in to the following form is held by EZ facility. Their privacy policy regarding the security of your information can be found at ezfacility.co.uk. We do not share your details with any other persons or organisations. We will use this data for contacting you regarding your booking, and for in house statistic gathering regarding usage of our centre, which is required for funding purposes.