UPDATE 27/12 – BYC is now in a tier 4 area and so we are not permitted to operate. We will reopen as soon as we're permitted, after this hopefully short break. If you've booked a session that has now been cancelled, see here to see what you can do. Follow us on Instagram and Facebook to get the latest updates as we hear more. See you soon!

IMPORTANT – Please read our new guidelines before attending –
We have some guidelines in place in order to operate safely under the current conditions.
Sessions are open to anyone aged 5 and up, unless stated.

Please make sure you arrive on time for your session. We will be restricting access to the building during sessions, if you are late you may find yourself locked out.

You will not be able to enter the building before a session's start time. There are also 15 minute gaps for cleaning between sessions. If you are attending more than one session in a row you will not be permitted to wait in the park.

Anyone under the age of 13 will need to wear a helmet. For safety we ask you to please bring your own if possible. We can loan them out only if absolutely necessary.

Parents – Due to limited space we are encouraging parents not to stay in the park for open sessions unless absolutely necessary. We are also asking anyone coming to pick up a child to come promptly at the end of the session only.
Wednesday
6:30-8:30pm (age 13+)
Friday
4:15-6:15pm
6:30-8:30pm (age 13+)

Saturday
10am-12pm (age 5-12)
12:15pm-2:15pm
Sunday
Currently closed. Check back soon.
Christmas Holiday Schedule
Prices
Any single two hour session
Ages 5-19 – £3.50
Ages 20+ – £4.50
BYC as a charity has greatly suffered financially over the course of 2020. As such we have made the decision to raise our prices in the skatepark for the first time in over 4 years. We hope you can understand, and we hope to be able to reduce this if things improve in the future. To read more about  the situation we're in and how you can support us, see here.
How to use the booking system
Visit https://byc.ezfacility.com
Click Login in the left menu. If you need to register an account, follow these next steps. Otherwise skip to Booking
Registering an online account
If you need to register, click Register. If you are registering for somebody else, use the name of the person who will be coming to skate.
Create a username and password. You will then need to complete your registration via the email you're sent.
Open the email and click Complete Registration, and complete your profile information. If you have registered before with our old system and have used the same name and email, your details should be picked up. Make sure these are correct, or fill them in if missing.
Booking
Choose the session you want to attend on the calendar. Only sessions with spaces available will be visible.
Choose Buy Package in the popup box. If you already have a prepaid package, you can choose Book to use it.
Buy a single skate session for your correct age group. Fill in your card details on the next page, and hit Complete Checkout.
You can confirm your booking by clicking your session in the calendar again. It will display as 'Scheduled', as below.
If you want to book the same session for more than one person, you must repeat this process. See 'Booking on behalf of multiple family members' below.
Please confirm your session is booked and on the correct date. BYC cannot take responsibility for incorrectly booked sessions.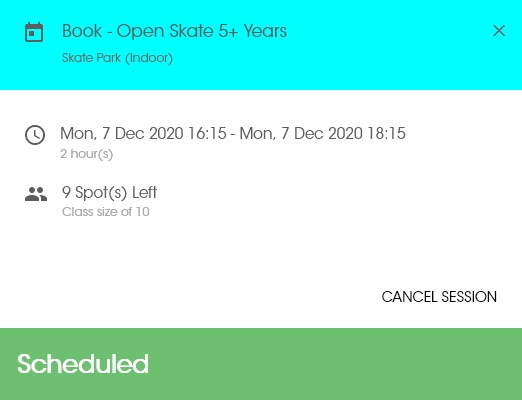 Cancelling a skate session
Every session is pre-paid, and non-refundable. If you cannot attend a session, you are able to cancel your place and reuse your payment at a later date. as long as you do this before the start of the session. Click the session you're booked on to in the calendar, and choose Cancel Session. You will then have one package available to apply to a different session next time you want to come.
Booking for multiple people / booking on behalf of others
You can manage booking for multiple people on your account. If you want to book more than one space for a session, you must add each name to the session individually. You will need to add each person to your account beforehand –
Click your name in the left menu, then choose Relationships > Add Relationship
Choose the relationship to the original account and click next. If the person is on our old register already, you can search their name to link their account. If not, click add and fill in their details. Check the details are correct and submit.
Now when you select a session to book on to from the calendar, you can choose who you are booking it for before buying the session. To book more than one person on to the same session, book one person as normal, then choose Filter above the calendar and change to the next person before booking again.Repeat the buying process for each person.
Buying multiple packages at the checkout process will not add them all a session automatically. You are able to buy them all at once and apply them afterwards, if you wish.
Buying multiple sessions to book later

You are able to pay for multiple sessions at once, and apply them to sessions as needed. This is helpful if you need to pay for your child, but want to give them the control to book themselves on to sessions. You can bulk buy sessions, and they can log in and put their name down when they want to attend.
Click Buy in the left menu. Make sure the correct name is selected if your account has multiple family members. Find the session for the correct age group and click the trolley icon to add a session to your cart. Repeat this as many times as needed, then checkout and complete the payment. You will then be able to book directly on to an eligible session, until all those sessions are used up.