★New! Female Skate & Adult Skate Courses ★
We have two new skate courses starting here in November. Both skateboard tuition for beginners who want to start up or just have a go!
Tuesdays for adults and Thursdays for girls aged 16-25
Click here to see all the info on both!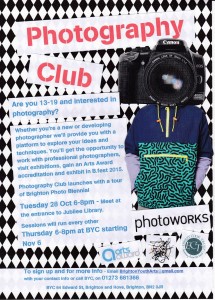 ★Sign up now for New Photography Club★
Whether your a new or developing photographer we'll provide you with a platform to explore your ideas and techniques at this new Photography Club for 13-19years. You'll get the chance to work with professional photographers, visit exhibitions, complete an arts award and exhibit in B.fest 2015.
Drinks and Snacks provided

★Thursday 6th Nov 6-8pm at BYC (Brighton Youth Centre)
★Thursday 20th Nov 6-8pm at BYC
★Thursday 4th Dec 6-8pm at BYC
★Once signed up on the doodle poll below, send your Email Contact and FB name to BrightonYouthArts@Gmail.com
http://doodle.com/5xrmuedepu8gchv2
COME WORK FOR US!
Brighton Youth Centre is looking to add to our small team of bank Youth Workers to work on a casual basis to cover our programme offer. Take a look at all the info and grab an application for over here!