B.fest is back and coming to a venue near you! The only young persons' dedicated arts festival, for and by young people, in the South East.
B.fest 2018, now in its 6th year, is putting together another great week of music, performance, visual art, photography skate, bake offs and much more. B.fest gives young people the chance to see and make great art & performance, in professional venues and dedicated spaces.
Get involved, get creative and keep updated with all the great things that will be happening.
B.fest creative Easter workshops
Photography Taster Workshop
Tuesday 3rd April 2-4pm @ BYC FREE
Want to try out photography? Here is you chance to work with Lynn, one of Photoworks professional photographers, to try out some new techniques.
Sign up here
Comedy Workshop – 2 day
Tuesday 3rd April & Wednesday 4th April 3-7pm @ BYC FREE
Want to have a go at stand up? Work with comedians to look at improv, script writing and comedy techniques in the two day workshop. Plus have the opportunity to perform to a small audience Wed 7-9pm. Sign up here
Hammer and Tongue Youth Poetry Slam Workshop – 2 day
Tuesday 3rd April & Wednesday 4th April 3-7pm @ BYC FREE
Hammer and Tongue Brighton Youth Poetry Slam is happening in B.fest. If you want support developing you poetry and perf ormance skills so you can take part, come and work with awesome local poet Michael J Parker and get yourself Poetry Slam ready. Plus have the opportunity to perform to a small audience Wed 7-9pm. Sign up here
Mural painting with Billy Mather – 2 day
Tuesday 3rd April and Thursday 5th April 1-5pm @ BYC FREE
Ever want to paint a large scale mural! Come a work with awesome Brighton based illustrator Billy Mathers and make B.Cave – BYC's new film, comic and zine library come alive! Sign up here
Drag Race Workshop – Kings and Queens
Wednesday 4th April 3-7pm and performance 7-9pm @ BYC FREE
Ever watched RuPaul and wanted to show them how its done! This workshop is for you, make you alter ego come alive and spend the day adorning, learning make up and performance from Brighton's top Kings and Queens.
Sign up here
Grind Designs
Wed 4th April 5-9pm @ BYC FREE
Every wanted to design your own skate deck? Sign up here and work with local artists to create a design which we will get printed onto a deck for you. Your deck will be exhibited in B.fest and you will get to take it home after that! Sign up here
Capoeira Taster Workshop
Wednesday 4th April 5.30-7pm @ BYC FREE
Capoeira is an Afro-Brazilian art form combining music, dance and martial art. Come an have a go and learn techniques from Amazona Arts talented instructors. Sign up here
B.fest Events Team
B.fest 2018 is organised by a group of young people from 13-19 who make decisions about what will be in the festival, what it will look like, designing programmes & flyers and making sure its got all the elements you want. The B.fest board meet Wednesdays at BYC, from 7.30pm. For more information phone the BYC office on 01273 681368, email brightonyoutharts@gmail.com or get in touch by Facebook.
Submit an event, performance or piece of art…
Artists…
If you are between 13-19, and would like a place to exhibit a piece of art, sculpture or a film you've made, get in touch. We have a professional gallery space in the centre of the city, a dedicated short film night & plenty of spaces to exhibit the best of your work!
Performers…
Do you play in a band? Make theatre? Do stand up Comedy? Hulahooping? Dance? We have two dedicated music and performance events during B.fest 2018, one an all day outside festival event at The Level, and another as part of our B.Venue series with Brighton Youth Centre & The Dome. We need you to fill the programme!
Or something else…?
Interested in skateboarding? Or another activity that isn't named here? No worries. If you think there is something that the festival programme should have and doesn't, get in touch or start a new event!
Working with young people…
Are you an organisation that works with young people, or a young person who is part of a group? Do you want to share your latest project? Display what you're doing? Or share your talents? Perhaps you might like to teach other people what you do? Exhibition or performance space, workshops and stalls are available to organisations working with young people. Come along, join in and share your projects/events as part of B.fest 2018.
For more information and to find out how to be part of B.fest 2018, or just to keep up to date with the latest news,follow us on Facebook (B.fest)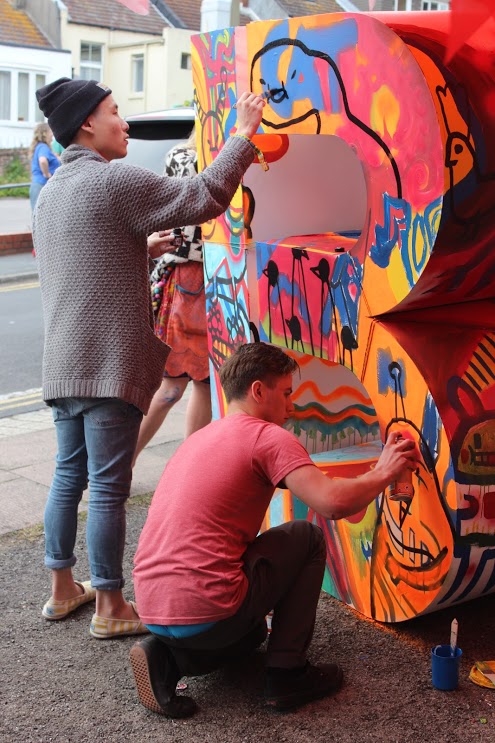 Volunteers
As in previous years we are seeking volunteers to support B.fest 2018, both in the run up to the festival and during the festival week. This can be a weekly (from April) or an intensive week long commitment (May Half term). For more information and to find out what volunteering opportunities are available please see here!
Support, Sponsors & Media
If you would like to support B.fest, you can donate directly through our just giving page http://www.localgiving.com/charity/byc/project/bfest. Alternatively, we are also seeking sponsorship to support our outdoor stage, programme printing & other major costs. We can offer various forms of advertising & promotion for sponsors & large donors. For more details, please email office@brightonyouthcentre.org.uk or phone us on 01273 681368
For press, interviews, filming or other questions about B.fest, please get in touch with the B.fest team directly on brightonyoutharts@gmail.com or phone us in the office on the number above.