Cultureground Exhibition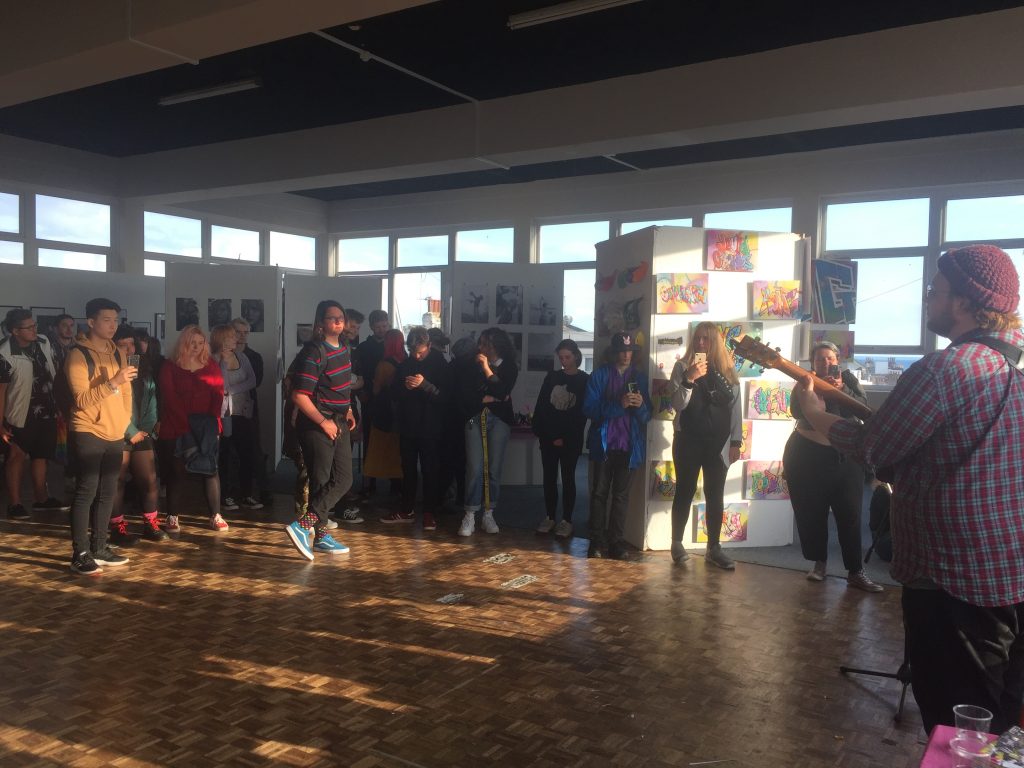 Open Sat 23rd, Mon 25th, Tues 26th, Wed 27th 4-9pm
Cultureground premieres art and media by young people from all over the South East.
All events are drop in – No sign up required
Grind Designs
BYC has given a group of budding young skaters & designers a chance to work with local artists to design their own skate deck. Come and see the epic range of deck designs on display.
Hidden Paths – Virtual Reality Experience
Come and explore pathways into better futures! Created by a team of mostly young artists from the Brighton System Change Hive project, Hidden Paths is an outstanding art driven immersive experience where you will be guided through a virtual Museum of Futures, exploring how brighter, fairer, and greener futures might unfold. The VR headset experience will be followed by small group discussions for those who want to join, where you can meet some of the artists who created it, and have your say about 'system change' – how would you like to see life and society change for the better?
Art in Mind – Art in Isolation
Art in Mind creates art to raise awareness around mental health. We run regular supportive art groups at Brighton Youth Centre, get in contact @Art_in_MindBrighton to join. This exhibition focuses on work created during Covid iscolation. See a rich variety of mixed media art produced by young people in 2020-21.
Our Piece of Brighton: Making It Out Art Workshop
The 'Our Piece of Brighton' project is a collaborative artwork that will be designed and made by young people of Brighton & Hove. In Collaboration with SinnaOne, it will be a 3D 'piece' of graffiti, taking inspiration from the graffiti many varied murals, dubs and pieces seen around the city. Be part of creating this sculpture installation for the city.
http://www.making-it-out.co.uk/
Miss Represented – I See Red
Brighton Dome & Brighton Festival's flagship project Miss Represented is an arts collective, which works with young women who face challenging life situations. Miss Represented create a safe space, using the arts to explore life experiences, to gain a deeper understanding of ourselves and the world around us. This exhibition will showcase the 'I See Red' film produced by young women in 2021.
Crawley Youth (CCYS)
Design and art work from Crawley youth club for our sister youth arts festival 'Rock On Crawley'
Clock Tower Sanctuary Exhibition
Beautiful art from young people at Clock Tower Sanctuary.
Expressing Colour
A bold body of work created by Jemima, Kat, Louis, Ned, Oleta, Sandy, Tilly and Willow during the 2021 Photography Summer School at University of Brighton The Summer School was designed and delivered online by Artist Lindsey Smith, supported by a team of University Ambassadors; Olivia Gallichan, Helen Speck and Pany Dexiades. The sessions set out to explore the three primary colours as a means of creating symbolism and allegory in photographic work. The images were originally showcased along Brighton Seafront during August 2021.
Stick It Up
Work coming from local young street artist.