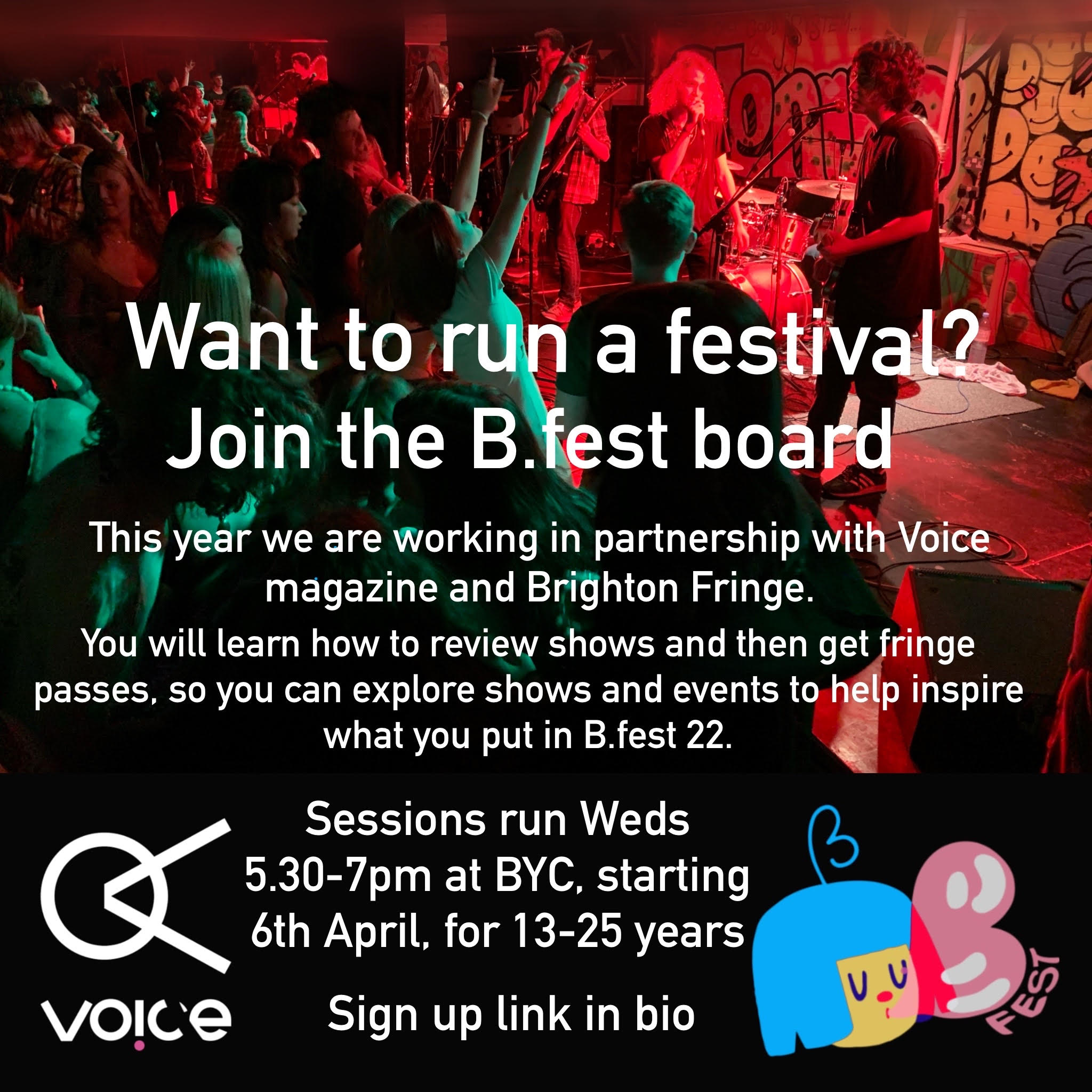 Last updated 10.03.2022
B.FEST BOARD + VOICE MAGAZINE
WEDS 5.30-7PM – Starts Wed 6th April
For 13-25 years
Join the B.fest board, run, brand, choose shows, run events and make B.fest 2022 happen!
This year we are working with the amazing Voice magazine, an online magazine for young people who love the arts, opinion and politics.
Voice are provide 6 free training, workshops in arts reviewing and free tickets for the events you want to see.
Choose your events, show up, enjoy the show and write or record a short review within 48 hours for our magazine and have your opinions published nationally.
In June we will start the B.fest production sessions, for the Oct half term festival.
VENUE B GIG
FRIDAY 29TH MARCH 7-10PM
LINE UP TBC
BOOK HERE + PAY £4 ON THE DOOR
Last updated 07/12/2020 
Once again we can announce that we're now reopening for face to face sessions. We have had to make some changes to be COVID compliant but it is great to be back! 
For the Youth Club programme we are contacting existing members and inviting them to sessions. To visit the skatepark you will need to book online as there will be limited spaces in sessions.
Our office will be up and running but we may be a little slower than usual at responding to emails and messages as we get back up to speed. 
We would like to thank everyone for their patience and messages of support. It has been, and remains, a difficult time for us all. Social distancing is the opposite of what we normally do at a Youth Centre but we have tried to put measures in place that keep people safe but retain some of our normal offer. 
Supporting BYC as a charity
BYC is a charity that owns the building and runs sessions and activities. We receive a grant from the Council but we raise most of our income (over 80%) from renting space in the building and income from the skatepark. This means our income has been hit hard as a consequence of lockdown, and the measures we have to put in place in order to open again.

If you are able to support us at this time that would be appreciated. This could be a donation, a message of support or an offer of help.
 
If you want to donate you can do so below. If you're booking a place in the skatepark you also have the option of making a donation alongside your booking.